Mark Topic as New

Mark Topic as Read

Float this Topic to the Top

Bookmark

Subscribe
Options
Mark as New

Bookmark

Subscribe

Email to a Friend
‎08-13-2008 11:26 AM
Test of a new item page design
Hello everybody,
My name is Subha and I work in eBay's product management team and specifically manage the item page on the website. As you might have heard, we are starting to test a new design of the item page and I am sure you have questions and comments on whats going on as I recognize how important this page is to all of you. So, I wanted to start this thread to help understand the background of this change and answer any questions you may have. Apologize for the long first post, but I wanted to set the context clearly upfront.
Q1) Firstly, why are we doing this change?
A1) The last re-design we did in 2003 improved our business metrics greatly (i.e., bids/ BINs per item page view). Since then the metrics have flattened and buyers are telling us that there is room for improvement. To understand what to improve better, we did a user research phase in 2007 for 8 months where we talked to thousands of buyers and sellers across the world on their impressions about the current item page, since the last re-design in 2003. These are the top 5 issues we heard from you
1. Lack of Organization.
The item page could more effectively optimize allocation of prime screen real estate, facilitate comparison of items, and make distinct groups of information discernible at a glance
2. Inadequate Pictures.
Pictures are an invaluable tool for buyers and eBay pictures were considered inadequate due to small size, poor quality, and overwhelming emphasis on text information.
3. Lack of Awareness of Functionality.
Desired functionality often goes unnoticed due to haphazard placement and redundancy of elements
4. Information Density.
Information not effectively prioritized to determine what must be presented directly on View Item page and what can be made available indirectly to reduce clutter and improve ease of finding desired information.
5. Lack of Inspiration to Buy.
The spirit of fun and competition are missing. There are opportunities to enhance the experience through real-time countdown tickers, flagging bad sellers, providing total cost information, speed bidding and more…
Now that we knew what the issues were, we went back and dug deeper into which groups of information displayed on the item page was more important for the buyers to help make an effective purchase decision. Again, we sampled around 10,000 users, both buyers and sellers and this is the priority order of information that was important for the buyers overall.
1. Info about the item
listed on eBay including the photo, description and current bid-price
2. Info about the status of the auction
including the end time, bid history and your maximum bid for the item
3. Shipping and payment information
including shipping cost, available shipping methods, acceptableforms of payment, and return policy
4. Info about the seller of the item
including their name, feedback score, feedback comments, and other items for sale
5. Actions you can take on an item
such as watching the item, bidding, buying, and contacting the seller of the item
6. Info about sellers store and policies
including their other items for sale, shipping and return policy and their contact information
7. Ability to see related eBay listings
such as accessories for an item, related search results, and recommended items
In addition to the above, we also have technical reasons for the re-design. We have security concerns such as BIN over-writes and performance issues with slow loading of the item page, where we believe there is an opportunity to improve.
Taking these issues and recommendations into consideration, we developed a new design of the item page as shown below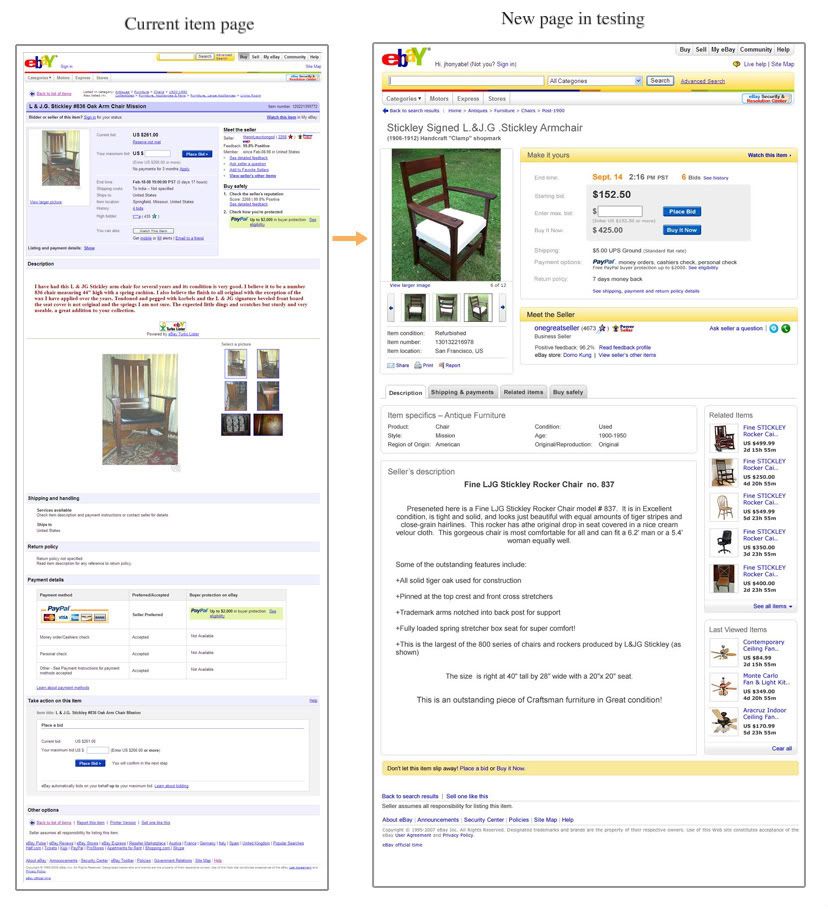 The high-level goals of the re-design are
1) make the item the center of attention for the page
that will inspire the buyers
2) de-clutter and simplify
features, remove redundant or sparsely used features
3) improve the business metrics by providing an easier-to-use item page
and resulting transaction flow
The key feature highlights as you can see from above are
1)
bigger, better pictures (size increased by from 200% - 300%)
2)
real-time countdown timer in the last 24 hours of an auction,
3)
tab layout,
4)
key item info made more prominent – return policy, payment options, item condition, etc
5)
new store header,
6)
active content restrictions through description domain split,
7)
bidding layers made the de-facto bidding model for signed-in users
8)
merchandising recommendations and
9)
last viewed items module.
Please also check out the following for more details – an overview of the changes -
http://pages.ebay.com/newitempage/
and the FAQ for more details –
http://pages.ebay.com/sell/June2008Update/faq/index.html#31
I am sure you have questions and comments on whats going on, so pls post here on the board, so we have a central place to discuss. I look forward to discussing them with you. Also, if you are part of the test, you will see a feedback link at the top of the page for a short period of time through which we encourage you to send us direct feedback too.
Now, for some housekeeping stuff –
1) for store sellers, we have a consolidated stores board at
http://forums.ebay.com/db2/thread.jspa?threadID=1000722034&start=40
. I encourage you to ask store specific questions there as the stores team, apart from myself are partnering to answer your questions,
2)
I will be back twice a week to answer questions on this board – potentially every Tuesday and Friday. Rest assured, I read all the posts.
3) I will also post shortly a seller-focussed FAQ that explains in detail what changes, if any, need to be done by the seller.
Let me know if you have any questions and suggestions on how we could partner better on this and how I can also communicfate better to all of you.
Looking forward to this journey and your valuable feedback,
Subha Shetty
2,900 REPLIES